Following is information for Kaydee D Dyer:
Email:
kaydee.dyer@ou.edu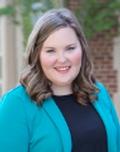 About Kaydee D Dyer:
Kaydee earned a Masters of Adult and Higher Education at the University of Oklahoma in 2013. During her graduate program she served as the OU in Arezzo Graduate Resident Director in Arezzo, Italy. Kaydee also has a B.A. in Public Relations and minor in Non-Profit Management from the University of Oklahoma. In her spare time she likes to travel and spend time with her golden retriever.