This page is the brochure for your selected program. You can view the provided information for this program on this page and click on the available buttons for additional options.
Arezzo, Italy
(Outgoing Program)
Featured: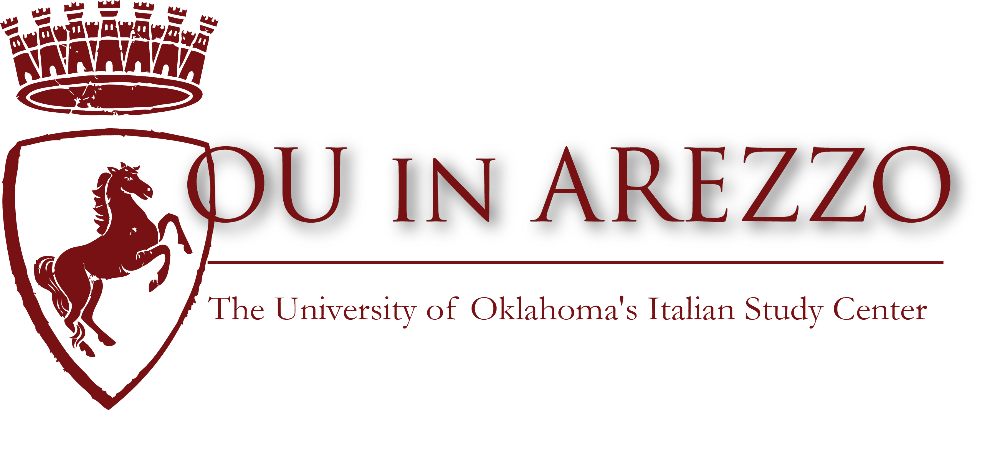 Arezzo Program Highlights:
Location: Arezzo is a medieval town located in the Italian region of Tuscany and home to OU's first permanent international study center. Florence, Siena and Rome are only a short train or bus ride away. With its manageable size, friendly people and many events and festivities throughout the year, this beautiful town is the ideal home base for all OU students looking for a diverse and culturally enriching experience overseas!
Housing: OUA students will live at the Santa Chiara Monastery Residential Learning facility or in homestays.
Academics: OUA students will take OU courses taught by OU professors at OU's Italian Study Center in Arezzo.
Cost: A semester in Arezzo is comparable to one at OU's Norman campus.
Program Requirements
In addition to meeting the
study abroad eligibility requirements
, students must also have:
Passport (valid through six months after return from study abroad)
Completed Online Application
1 Recommendation Letter
Visa (you will get this after you are approved for OUA study abroad)
Location and History
At OU's Italian Study Center, students can immerse themselves in the rich Italian culture and gain knowledge of the language while taking a variety of OU credit-bearing classes. Classes offered in Arezzo are taught by OU professors and staff and are open to both students who have previously studied Italian and those who have no Italian language experience. The location of this signature program in the town of Arezzo gives OU students the chance to enjoy learning in a lovely town, untouched by mass tourism. Arezzo is the perfect place to live the Italian lifestyle and soak up the Mediterranean atmosphere while studying and spending time abroad with fellow OUA students.
OU's Study Center consists of the Santa Chiara Monastery Residential Learning Center and the San Francesco Classroom Annex. Both of these facilities are located within the historic center of Arezzo and provide spaces where students attend classes, work and collaborate in computer labs, relax and socialize in lounge areas and prepare basic meals in a communal kitchen. The Santa Chiara Monastery houses OUA students in addition to the Faculty-in-Residence, an OU professor who moves to OUA for a year to teach classes and develop culture and social programming for students. Local Italian students studying at the University of Sienna in Arezzo are also invited to stay at the monastery for language and cultural exchange. The residential site is also home to two on-site Student Affairs staff and administrative offices. The San Francesco Classroom Annex contains a great hall, several classrooms, a communal kitchen, lounge areas and several offices.
Housing
OUA students have the opportunity to live in the new OUA Francis and Kathleen Rooney Family Residential Learning Center. This 13th-century monastery has been beautifully restored and OUA is proud to offer this living/learning academic center in Arezzo, Italy. It consists of several classrooms, residence hall bedrooms, study lounges, a library, a cafeteria area, a media lounge, laundry facilities and a lovely garden where students can enjoy the Tuscan scenery. The Center is located close to local cafes, shops and restaurants.
OUA students also have the option of staying with a host family in Arezzo. OUA students who prefer a homestay option have the opportunity to live with local Italian families or individuals for a unique cultural immersion experience. All hosts go through an interview and screening process and are approved by the OU in Arezzo directors. The number and type of homestay options can vary each semester, based on the availability of host families. More information about what is included in the homestay option can be found on the budget work sheet below.
OU in Arezzo continues to expand semester academic opportunities for students across all majors and areas of study. If additional options are needed, students may be placed in a housing location that would be in proximity to the OUA sites (Rooney Family Center and/or the San Francesco Classroom Annex) and comparable in price and in amenities. All semester students housed in annexed locations would have access privileges to the common areas within the Rooney Family Center and the San Francesco Classroom Annex and could take advantage of the amenities offered at each location.
Academic Calendar
OUA offers Fall, Spring, Summer and yearlong programs! OUA program dates are nearly the same as those on the
OU academic calendar
for the Norman Campus, though small deviations may occur to arrange for better arrival or departure times.
Academic Overview
Since OUA is the University of Oklahoma's Italian Study Center, there is no need to transfer international credits – it is like taking classes in Norman! OUA offers a variety of OU coursework that is intended for a general student audience and taught by OU professors. Many OUA courses are approved to count as General Education credits that apply to many different majors. All courses will be graded on an A-F scale and will be factored into the student's GPA.
Like all OU students abroad, OUA participants are expected to enroll in 12-15 credit hours per semester. Independent Study and/or online courses can be taken on top of the on-site minimum enrollment of 12 credit hours.
Fall 2017 Course Listings
Professor Joshua Landis will be the Faculty-in-Residence at OUA for the 2017-2018 academic year.
Below are the courses that are open to all OUA students for Fall 2017 with no specific pre-requisites (bringing on-site enrollment up to a minimum of 12 credits).
AHI 3303: Renaissance Art in Italy (Gen. Ed Western Civilization and Culture), taught by the Director of Italian Programs, Kirk Duclaux
IAS 3433: International Relations in the Middle East (Gen. Ed. Non-Western Culture), taught by Faculty-in-Residence, Dr. Landis
IAS 3000: Modern Europe , taught by Faculty-in-Residence, Dr. Landis
IAS 3000: Perspectives on Italian Foodways, taught by Professor Karima Moyer-Nocchi (local adjunct)
IAS 3000: Italy through Italian Film, taught by Simona Micali (professor at local university)
Italian language & Culture
All OUA students will take one Italian language course at their respective level or the Italian Cultural Literacy course. Students coming in with little or no Italian will take 5 hours of ITAL 1115 or 1225 OR the 3-credit course MLLL 3393: Italian Cultural Literacy. More advanced students will take 3 hours of ITAL 2113, 2223 or 3073.
OUA Internships
OUA offers students the unique opportunity to apply for credit-bearing internships with a local public or private organization/business during their semester abroad. In order to account for high quality standards and applicability to a student's degree plan, the academic components of each internship are overseen either by OUA faculty or the sponsoring OU Department. Internships can accelerate language and cultural learning through full immersion and real-world interaction in the working environment - and it's a great opportunity to boost your resume!
Here is a list of
OUA internships offered
:
OUA Internship List
On-Site Student Employment
Students have the opportunity to work with OU in Arezzo while studying abroad. The OU in Arezzo Center Coordinator hires 4-6 students Community Assistants and Office Assistants to work 5-20 hours per week depending on schedule and preference. The Office Assistant position works primarily in the San Francesco Classroom Annex doing clerical work. The Community Assistant position works in the Santa Chiara Residential Learning Facility and assists with front office operations and and assisting residents when needed. Students can apply for these positions upon acceptance into the program.
Costs
Spending a semester in Arezzo is comparable in price to spending a semester on the Norman campus. The most variable costs are expenses for entertainment and weekend travels. Students can substantially reduce the overall cost by controlling these two factors. The OUA study abroad adviser will walk students through anticipated expenses for their Arezzo study abroad experience.
Please take a look at our detailed budget:
OUA Budget Work Sheet Fall 2017
Scholarships
Please note
: The Fall 2017 PITF Scholarship, the Lobeck Taylor Family Foundation Scholarship and Stuart Family Foundation Study Abroad Scholarship Applications are
due on February 26, 2017.
There are a number of
scholarships
available for study abroad students. Below is a partial list:
City Map
The map below shows the location of the Santa Chiara Monastery Residential Learning Center and the San Francesco Classroom Annex in the historic heart of Arezzo. Click on the map for a larger version on Arezzo's tourist portal.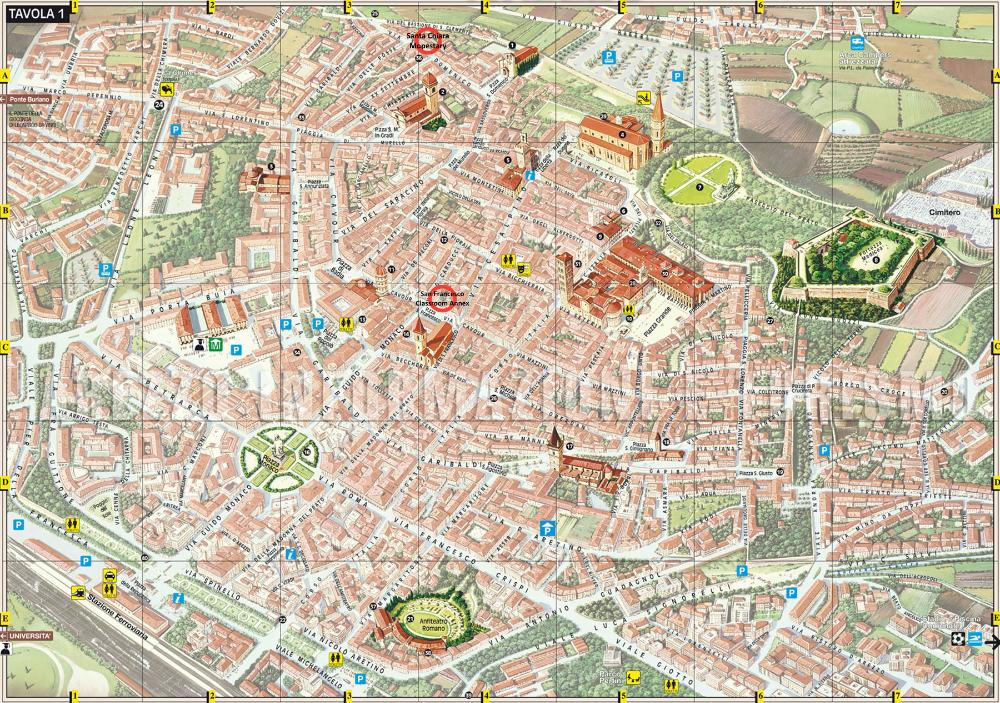 Get Started
Start by attending a
Study Abroad 101
information session to learn the basics about study abroad as well as next steps. Then,
schedule an appointment
with Kaydee Dyer to move on to Phase 2!
Other Resources
| Term | Year | App Deadline | Decision Date | Start Date | End Date |
| --- | --- | --- | --- | --- | --- |
| Academic Year | 2017-2018 | 02/26/2017 | 03/03/2017 | 08/21/2017 | 05/11/2018 |
| Fall | 2017 | 02/26/2017 | 03/03/2017 | 08/21/2017 | 12/15/2017 |